By CLIFF BRUNT
ISL Editor
The Purdue baseball field that was slated to open before the 2012 season finally is nearing completion.
Purdue hosted a regional this past season but had to play it in Gary because Alexander Field wasn't ready. Purdue athletic director Morgan Burke told ISL in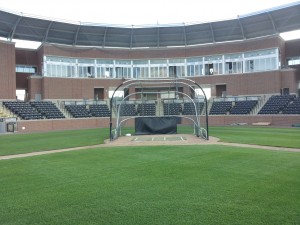 late June that the opening was delayed because there was too much clay in the earth and it made the foundation unstable.
"They weren't quite comfortable it was right," he said. "They wanted to make sure it was set up right. It's not something you can rush."
Purdue's baseball sports information director Ben Turner said recently that the work was 85 to 90 percent complete. Burke said during that June interview that he expected the work to be finished by the end of July.
The press box and locker rooms were not finished, but the field, dugouts, bullpen and seating were done.
Here are some photos of the facility.
Related Posts