By CHRIS GOFF
ISL Correspondent
INDIANAPOLIS – A trying stretch of six years without a playoff series victory ended last season.
Now, the Indiana Pacers want more, and they believe major changes to the bench will help them advance even further in the postseason.
At the team's annual media day, Indiana spoke boldly and often about winning – and winning big. In May, the Pacers lost to eventual league champion Miami in six games in the second round. Coach Frank Vogel said Monday that he hopes his team is now good enough to knock off LeBron James and the Heat.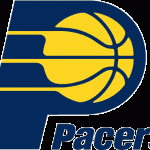 We pushed them to greatness, Vogel said. For us it was a great step, a chance to show we can play with those guys.
After an offseason that saw Indiana resign core players Roy Hibbert and George Hill and spend $29.5 million to add three key reserves, Danny Granger said vaulting all the way to a championship is not out of the question.
We have the pieces, he said. It's a matter of putting it all together. We know how good we can be. This year we get to start fresh.
Much of that renewal stems from significant roster turnover on the Pacers' second unit. Of the 18 players on Indiana's training camp roster, 10 are new faces. Their presence was the talk of Media Day.
Vogel said the problem with last year's bench was that it struggled to pass the ball and score points. Newcomers D.J. Augustin, Gerald Green and Ian Mahinmi alleviate those issues, he said.
Mahinmi came from the ultimate trust-the-pass team in Dallas, Vogel said. Augustin is a big-time setup point guard. You have shooting with Green.
Despite the new reserves, Vogel said one change is that he likely will allow all five starters to average more than 30 minutes per game. Last season, only two starters averaged more than 30.
Hibbert, who has never averaged 30 minutes, returned to Bankers Life Fieldhouse as the proud recipient of a new four-year, $58 million contract, the team's largest deal since Granger's $60 million extension in 2008.
It was never about the money, Hibbert said. I'm truly dedicated to the team. We're the best-kept secret.
The Pacers seem to feel that third-year guard Paul George is a breakout candidate. If George is as good as his teammates think he can be, Indiana could improve on last year's 42-24 record.
Paul really is a rare talent, Granger said. He pretty much can do everything. The sky's the limit, especially on the defensive end.
George had 108 steals last season, sixth-most in the NBA, and averaged 12.2 points per game, an increase of more than four from his rookie average. He said he made significant strides in the offseason, focusing on handling the ball more effectively.
I want to be an All-Star, George said. This is a year I can really make a name for myself. People are expecting me to get out of the shadows of Roy Hibbert and Danny Granger, and I'm ready for the task.
Elsewhere, Indy native Hill takes the reins at point guard. He took over late in the season after an injury to Darren Collison, who in July was dealt to Dallas along with Dahntay Jones in exchange for Mahinmi. Hill resigned for five years and $40 million.
This is home for me, Hill said. To know I'm here for five more years, I'm happy they honored me with that job.
Hill said that because he isn't a natural point guard, he's still learning to read defenses and execute the pick-and-roll offense. He said he hopes to continue to receive some minutes at shooting guard, but isn't sure he will.
Augustin, the No. 9 overall pick in the 2008 draft, joined the Pacers to serve as Hill's backup. Augustin averaged 6.4 assists per game for Charlotte last season as the Bobcats finished with the worst winning percentage in league history.
I'm in a better place, Augustin said. I don't really talk about Charlotte anymore. I'm ready to be on a winning team.
Make no mistake : These Pacers expect to be just that.
I definitely think a 50-win season is ahead of us, swingman Sam Young said.
Under league rules, the Pacers must cut at least three players, and could cut as many as five. Vogel said it's a good idea to go with 14 players and leave one roster slot open.
You definitely have to maintain flexibility so if you have catastrophic injuries to one position you can make moves, Vogel said.
The Pacers, under the direction of new team president Donnie Walsh, certainly made their moves this summer. Now they hope those changes translate to more wins on the game's biggest stage.
They've already translated to belief in the locker room. Granger, the team's leading scorer in each of the past five seasons, said the roster's collective confidence is at its highest level in perhaps eight years.
We're not underdogs anymore, he said. We're projected to do good things. We have to live up to those expectations.
Related Posts