By CHRIS GOFF
ISL Correspondent
Frank Vogel has enough talent to match up with anyone. Over the past two offseasons, Larry Bird and Donnie Walsh have maneuvered the roster into a position where Indiana can reasonably expect to win 50 to 53 games.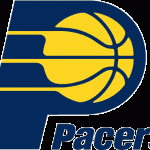 It's up to Vogel to decide how to utilize the players and put them in the best position to succeed. At yesterday's annual media day, the second-year coach said he expects to field a 10-man rotation.
Barring an injury, the starting lineup will consist of Danny Granger, David West and Roy Hibbert up front, joined by Paul George and George Hill in the backcourt.
The Pacers didn't pay Ian Mahinmi $4 million annually to twiddle his thumbs, so figure on him as the backup center. D.J. Augustin is a given as Hill's caddy. And while it's not universal knowledge, Gerald Green actually broke out last year; best case, he contends for the Sixth Man award this season.
That leaves a pair of rotation spots up for grabs, including the place of holdover Tyler Hansbrough, who better not shoot 41 percent from the field again, unless his goal is to be non-tendered after the season.
Don't count out Jeff Pendergraph, who holds one major advantage in what might turn into a camp battle: Unlike Hansbrough, he can finish in the paint.
Pendergraph, who missed all of 2010-11 with a bum knee, said he's finally healthy.
That's been the thing that's missing since I've been in the NBA, he said.
Reading between the lines, do not expect first-round pick Miles Plumlee to crack the rotation. Vogel said Plumlee could play power forward only in certain situations, and Plumlee told IndySportsLegends that becoming a proficient 4 is a long run project.
Plumlee is in the area code of Lou Amundson's role early last season. When Jeff Foster debuted, the longtime backup center played 73 minutes in his first five games. During that time, Amundson saw only nine minutes of action. Expect a similar timeshare with Mahinmi and Plumlee.
Other credible candidates for regular playing time include Sam Young, Lance Stephenson, Orlando Johnson and Sundiata Gaines. That 10th man spot is something of a wild card. Johnson's shooting may stretch defenses, but the suspicion is any of those guys will have trouble beating out Young. Vogel's impressions bear watching throughout camp and the preseason.
SOLD ON ARRIVAL: Augustin is operating on a one-year contract, and with Hill entrenched as the starter, it's easy to see the former Bobcat's arrangement with the Pacers as one of mutual short-term convenience. After starting 128 games the last two seasons, Augustin might want to use his pending unrestricted free agency to find a team that can promise more than 15 minutes a night.
But at Media Day, Augustin went out of his way to praise the Indiana franchise – and spoke unprompted about his future.
I love it here, Augustin said. Hopefully I can be here for a long time.
Related Posts