By CHRIS GOFF
ISL Correspondent
Let's take a quick look at how the Indiana Pacers handily defeated the New York Knicks 102-95 on Sunday afternoon at Madison Square Garden in Game 1 of their best-of-seven Eastern Conference second-round series.
WHY IT HAPPENED:  David West scored 20 points for a Pacers team that surprisingly found an offensive rhythm on the road. Indiana scored consistently from the second quarter on. Their defense was also solid most of the day, with Carmelo Anthony and J.R. Smith combining to shoot 14-of-43. The Knicks shot 43 percent as a team. Anthony had 15 points in the fourth quarter but couldn't lead his team back from a 16-point deficit. George Hill and Lance Stephenson combined for 25 points and limited New York's starting guards to 18. D.J. Augustin came in and gave the Pacers a huge boost with 16 points and four treys. Indiana consistently got to the rim and found clean looks.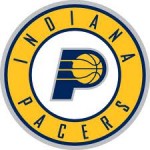 WHAT WE LEARNED: The Pacers played near their peak Sunday, especially in the second half. They threw up 59 points in the middle quarters. Led by Paul George, defenders never let Anthony set the tone. The Knicks looked as frustrated on offense as they did in Round 1 against Boston. West played in the post more than he has in the past few weeks and made all eight of his shots from no more than seven feet out. Tyson Chandler was a non-factor in the game, scoring just four points and taking just three rebounds. While the Knicks looked like a team searching for answers, the Pacers looked extremely confident. The Pacers led 52-46 after a first half in which both sides hit shots at a high rate and were plagued by careless mistakes. Indiana trailed 27-22 after the Knicks closed the first quarter on a 9-0 run that included wide-open 3s from Smith and Raymond Felton. But the Pacers bounced back to shoot 11-for-16 in the second quarter as the Knicks went 8-for-18. Indiana's big men scored often on Kenyon Martin, who played extended minutes after Chandler picked up his second foul late in the opening period. The visitors then pulled away in the third period after Anthony was called for his fourth personal at the 7:48 mark. Usually Anthony and Smith are offensive terrors, but on this day they couldn't overcome the Pacers' long, physical and coordinated defense.
KEY NUMBER: Aside from the Pacers shooting 49 percent from the field, they grabbed 11 offensive rebounds and were 20-of-26 at the foul line. The most pleasing numbers of all for the blue and gold might be their 46-32 advantage in points in the paint. They also outrebounded New York 44-30.
TURNING POINT: After Smith was fouled on a 3-point attempt and knocked down all three freebies, Indiana responded with a 7-0 run to seize a double-digit advantage for the first time at 69-57. West and Roy Hibbert provided all seven points in the spurt.
NEXT: Game 2 is Tuesday night in New York. Given the three off-days that await before the series shifts to Indiana, it will be interesting to see if the Knicks implement any significant adjustments this early in the series.
Related Posts