By CHRIS GOFF
ISL Correspondent
INDIANAPOLIS – Roy Hibbert stood on top of a two-foot dais, let his eyes scan the room full of reporters left to right the way he might examine his team's defense from the back line, and finally folded his towering 7-foot-2 frame into a small chair. Planting his face into his left palm, the Pacers' star center stared forlornly at the stat sheet on the table in front of him.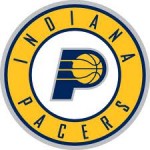 Perturbed by Miami's 70-point first half? Sure. Irked at his 4-of-12 shooting that marred a 20-point, 17-rebound night? Of course. But most of all, Hibbert was bothered by the 17 points and seven rebounds he saw next to Udonis Haslem's name in the box score. His man. His responsibility. And a figure symbolic of Indiana's inability to control the Heat's offense in a lopsided defeat.
Miami kicked their attack into high gear and rolled to yet another road win, 114-96 Sunday night in Game 3 of the Eastern Conference finals at Bankers Life Fieldhouse. The Heat carry a 2-1 advantage into Game 4 here Tuesday night.
Coach Erik Spoelstra turned the series around with a number of strategic changes, the most important of which was sending LeBron James to the left block. Miami's four-time MVP frequently backed Paul George deep into the paint and either scored himself or kicked it out to an open teammate – one post-up created a 3-pointer by Chris Bosh in the first quarter. Take that play as an example – how many teams can throw their 275-pound small forward in the box and have it end up with a trey from their floor-spacing center?
The Pacers' normally airtight defense has allowed Miami to shoot at least 47 percent in every game of these conference finals. And Sunday was one of its worst performances of the season, a thorough pick-a-part by the reigning world champions. Bosh nailed jumpers. Haslem confidently stroked from the baseline. Dwyane Wade and Mario Chalmers attacked the basket.
And the 3-point shot, a linchpin of Miami's powerful offense, was nowhere to be found. By design. Spoelstra's between-games adjustment gave his team the upper hand. The Pacers expected a parade of long-range attempts that never came. With sharpshooters Ray Allen and Shane Battier slumping – the Heat were 12-of-40 (.300) coming in after shooting 40 percent from downtown as a team this season – Spoelstra decided to work the ball into other locations.
-We thought we could get in the gaps," Bosh said. -We had a good game plan. We saw some things we could take advantage of."
Consequently, Indiana defenders saw a very different look.
-They really changed a lot of things up," George said. -They had it to where our bigs were spaced out. That allowed them to get easy baskets. They did a good job of just moving their guys around."
The Pacers never found a response as Bosh and Haslem hit shots. They combined for 18 points in the first quarter, and 25 in the first half, providing further openings for Wade and James to operate. Through three quarters, Miami had taken just seven of 60 shots from long range. During the season, 28.5 percent of their attempts came from that distance. Game 3 was decided in the first 36 minutes – the Pacers trailed 91-76 after three – and during that time, just 11.6 percent of the Heat's field goals were taken behind the arc.
Pacers coach Frank Vogel watched his team allow its most points ever in the first half of an NBA playoff game, surpassing the 69 scored by Boston on May 3, 1991, and declined to criticize the defensive effort. Left unsaid was that the players were guarding a scheme for which they were not prepared.
-We didn't have a great night but it wasn't as bad as the numbers looked," Vogel said. -If you're not perfect guarding them, they'll do what they did to us tonight."
That's an understatement – by the end of the game the Heat had shredded the league's best defense – and satisfied themselves with 63 percent shooting before the break. Hibbert couldn't believe his eyes on the court or the numerals on the paper.
-We didn't come out aggressive defensively," he said. -I'm going to take the hit on this a lot for the start and for the momentum. I have got to respond. I have to move my feet."
As a result of Spoelstra's moves, the series has taken a totally different feel. On the other sideline, Indiana's game plan – to make Wade, James and Bosh do the scoring and shut down everybody else – went awry. In addition to Haslem's breakthrough, Chalmers scored 14 points, including seven soon after the Pacers had cut a 16-point deficit to seven in the third quarter.
Off the bench, Chris Andersen kicked in another intense, productive effort – nine points and nine rebounds in particular – and Ray Allen knocked down a momentum-boosting 3 in the final 30 seconds of the first half. Shane Battier added seven points, and was a plus-16 in 21 minutes, the second best figure in the game behind James, who was a plus-22 in 41 minutes.
Role players not being contained, Hibbert said, -made us have to think on defense." Maybe so, but West contends James' shift was the change which made it all work, and sitting at his locker, West all but urged Vogel to make an adjustment to James' sudden move to the low post.
The Pacers hold a talented hand. How they play their cards will decide whether this series ends as soon as Game 5 or whether it goes the distance.  George is such a good defender that he might figure out a tactic to limit James with his back to the basket – -We have to push him out," George said – but a double team is the likely Plan B, and that'd open another can of worms by bringing those lights-out 3-point shooters back into play.
Indiana needs a win in Game 4 to stay in the series, and though the Pacers are down, they're not out. They'll wash a surprising blowout down with a confident disposition at tomorrow's practice, and rebound from their first loss in seven home playoff games with a better effort on Tuesday.
None of which brought any comfort to Hibbert in the immediate aftermath of this loss. As he sat at the podium, self-critical, gloomy and downtrodden, Heat beat writer Ira Winderman remarked, -Boy, does he take losses hard."
Hibbert owns them, too.
-It's going to be a hard job," the defensive standout said, -but if we want to win this series, I have to do everything. And make it more uncomfortable for those guys."
On Sunday, the Heat settled in, confident in Spoelstra's retooling, boosted by Haslem, and consequently looked the part of a defending champion. That's the latest chapter of these conference finals, with the Pacers still possessing the ability to write a new one more to their liking.
Related Posts