By TYLER SMITH (@TylerSmith_ISL)
ISL Editor 
Through the first 23 games of the season, the Indiana Pacers have faced a tough overall schedule.  Only one team has played a more difficult strength of schedule to this point (Philadelphia) according to ESPN.com.
They've played 13 games on the road.  They've played seven games against the top-5 in the Eastern Conference, and four games against the top-4 in the Western Conference.
Despite all of that, and despite a two-game losing streak, the Pacers still find themselves at 12-11 with a much lighter schedule coming up.
From now until Christmas, the Pacers will play eight home games, and two road games.  The two road games are against the Brooklyn Nets and Atlanta Hawks.  Here's how the schedule looks: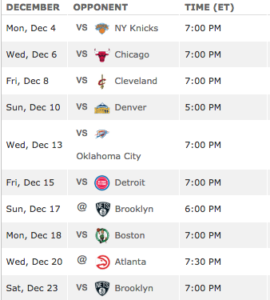 They'll play the top-3 Eastern Conference teams in this stretch, but each of those games will be at Banker Life Fieldhouse. They will also get four combined games against the Bulls, Nets, and Hawks.  Also of importance- only one back-to-back is scheduled.
That December 13th game might interest some fans as well.  Understatement of the year.
After the #Pacers play in Toronto, they'll be home for 8 of their final 10 games before Christmas.. And the 2 road games are against Brooklyn and Atlanta. #TimeToFeast

— Tyler Smith (@TylerSmith_ISL) November 30, 2017
As Ben Gibson wrote on 8points9seconds.com, December has been a key month for the Pacers over the last several years. That will be the case once again this season.  When Christmas rolls around, we'll know a lot more about this Pacers team.  Will they take advantage of this stretch, or will they let the opportunity slip?
It's the NBA after all.  Nothing is ever easy.  Anybody can beat anybody on any given night.  But if we've seen one thing from the Pacers this season- this is an energetic team that brings it on a nightly basis.
After Indy's five-game winning streak was snapped by Boston on November 25th, the Pacers locker room was extremely quiet.  Guys were not content with winning five of six.  "If you're happy after a loss, that's not a good sign," said Darren Collison after that game. "It's actually a good thing the locker room is like this."
Keeping all of this in mind, I don't see this team taking any stretch of the schedule lightly.
Prediction–  The Pacers will go 7-3 over the next 10 games and will celebrate Christmas with a 19-14 record.
Related Posts