By CHRIS GOFF
ISL Correspondent
For the sake of speculation, you could identify so many possible reasons for the sudden and stunning turnaround for the Hawks in their first-round series with the Pacers.
Was it Johan Petro's inclusion in a (bigger) starting lineup? Was it being back home in front of a near-capacity crowd waving white towels and going crazy at all the right times? Was it the inspirational sight of Harry the Hawk waving a giant flag and killing it with the children?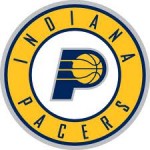 It may be any number of things, but settling on just one source cannot possibly explain why the Hawks went from 15-point losers one night to 21-point winners in just 72 hours as they thumped the Pacers 90-69 to bring their series to 2-1.
The Hawks did what teams often have done in the NBA playoffs; they came home for a Game 3 and rode an emotional swing. They defended much better. They had more energy. But more importantly, they caught the Pacers and Paul George off guard, and the result was emphatic.
While much of the focus in this series has been on Atlanta's inability to stop George, some thought the issue revolved around physicality. But contact was getting the Hawks in constant foul trouble, and it often arose because Larry Drew's defense was rolling out a red carpet to the basket. Drew decided he needed to prevent George and the Pacers from getting into the paint so the bruising, bumping and hitting wouldn't be needed as much. That is what Drew accomplished by moving Josh Smith to small forward Saturday night.
By altering the defensive height and having his perimeter defenders make more plays on the ball, Drew's team totally removed George from his comfort zone. Indiana's All-Star only scored at the rim twice. The consequences were far-reaching and extremely beneficial to the Hawks' cause, which now has credibility.
It would make for better drama if Atlanta's rebirth were caused by a Knute Rockne speech from Drew or a Rudy Ruettiger moment from once-buried Anthony Tolliver who returned to the rotation and broke free from playoff irrelevancy against the Pacers with seven points, including a last-second, pump-the-fist 3-pointer at the first quarter buzzer. But it was active hands and the unusual mediocrity they forced on George that truly put the Hawks over the top.
Everything we did tonight was uncharacteristic, said George, who had 16 points but never controlled events. We should have been ready.
It wasn't as if George hadn't seen size before. Petro, just an OK defender, didn't suddenly turn into Dikembe Mutombo. But the taller, stronger starting lineup was enough to confuse George and his teammates for the entire 48 minutes. They managed to post a stunning 44 fewer points than in Game 2. They committed nearly as many turnovers Saturday (22) as they did in Games 1 and 2 combined (24).With George having to pass over the long arms of Smith instead of dropping off the ball to open big men in the lane, he managed just one assist.
We had a difficult night setting up our screens and passing the ball on time and on target, Indiana coach Frank Vogel said. Their disposition was the difference.
It certainly was, and with 24 points off turnovers, it fueled the Hawks' preferred quicker pace, as well. Even without much penetration from Jeff Teague, who briefly left the court with a right elbow contusion, the Hawks shot 43 percent after shooting 49 percent and 50 percent in the first two games. Atlanta's starting frontcourt combined to shoot 21-of-37, and Ivan Johnson contributed loads of toughness and energy off the bench with seven points and seven rebounds.
Now, the Hawks are believing and the Pacers are reeling, which increases the chances this will turn into a best-of-three series with an Atlanta win on Monday in Game 4.
We just turned the energy up, said Al Horford, who scored 26 points and grabbed 16 rebounds as a power forward. Coach had to shake us up and get us going. We just picked it up.
Related Posts