By CHRIS GOFF
ISL Assistant Editor
INDIANAPOLIS – Donald Sloan is trying, at least, to make friends on the Indiana Pacers. It's the challenge of joining a group with established social patterns.
Sloan has been there before. In fact, he's been everywhere.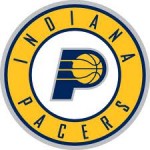 He's played for three different teams – Atlanta, New Orleans and Cleveland – over the course of a two-year career. He's been waived three times (including after signing as an undrafted free agent with Sacramento) and inked four 10-day contracts. Sloan's vagabond journey also took him to the Reno Bighorns, Erie Bayhawks and Sioux Falls Sky Force of the Development League as well as on detours to China and the Philippines.
The 25-year-old point guard was rewarded this summer for his persistence when he signed a two-year, $1.8 million contract to join the Pacers. Sloan is eager to carve out a permanent place in the league and stop moving around like a kid constantly enrolling in a new school.
"In my opinion, it's now or never," he said.
Sloan survived the first round of training camp cuts last week as Ron Howard and Darnell Jackson were released from the team. He appears to be fairly secure in his job as the third point guard.
Playing time has been sparse for Sloan this preseason. He's played just 50 total minutes through Indiana's first seven exhibition games, but feels he has made an impression on coach Frank Vogel in workouts.
"He said he was definitely surprised – as well as the guys in the main offices – that I am shooting it as well as I am," Sloan said. "They didn't think that I could shoot as well as I've been shooting."
That ability to space the floor was one of the concerns that kept Sloan's career on hold. He has made just nine 3-pointers at the NBA level in 44 tries.
"Definitely need to hit the open jump shot," Sloan said. "I've worked on that a lot."
Sloan was the first acquisition of Indiana's offseason, signing on July 3. With poor point guard play off the bench, the Pacers first targeted Sloan last season.
After joining the Guangdong Southern Tigers in mid-February, Sloan was halfway around the world when Pacers executives called, asking, "When are you coming back to the U.S.?"
The answer turned out to be early April – later than Sloan expected – when Guangdong made a title run. By then it was too late for the Pacers to integrate Sloan.
But their interest was flattering, and Sloan pretty much had his mind made up all spring that Indiana was the place he wanted to be.
"I was very hyped, very anxious about the whole situation and glad that an organization like this considered a player like me to be someone to come in," he said.
Sloan worked out for two other clubs this summer but decided Indiana was the best fit in terms of system and legitimate opportunity. Not to mention, the roster was pretty good.
"It's a great team," Sloan said. "By far this is one of the best I've ever played on. This team is definitely in the running to win it all this year. Winning is everything to me, whether I'm playing 1 minute or 12 minutes as a backup. Winning is everything."
Sloan thinks he can most help as a passer, having averaged 6.1 assists per 40 minutes in the NBA. The men ahead of him, George Hill and C.J. Watson, are not big distributors.
"I would consider myself more of a pure point guard," Sloan said. "There was doubt coming out of college whether I was a true point guard but I think over the past three, four years all that's been solved. I look to score only in certain opportunities. For the most part, I'm changing the pace and making sure guys get the shots they need."
Sloan finally has a chance to dish to All-Star Paul George. In 2006, he almost attended Fresno State, where George would enroll two years later. But Sloan stayed closer to home and played at Texas A&M.
Now living in a downtown apartment close to Bankers Life Fieldhouse, Sloan believes he has a plan for sticking in the NBA.
"I've tried to do things the way people have wanted me to do them," Sloan said. "I've continually tried to do it the right way. But now it's time to not hold back. I've been in situations where I feel like, 'OK, Coach wants me to play like this.' I feel like I just have to play how I play and not worry so much about how I think they want me to play. Playing free – when I was in China, in the D-League and in some cases in Cleveland – is what got their eyes on me in the first place. So I should just do that and see what happens."
Sloan values aggression and using good size for his position to attack the lane. He's hoping letting loose will allow him to hang around and build lasting friendships in Indiana.
"These guys have done nothing but open their arms to me," Sloan said.
Related Posts