By DOUG GRIFFITHS
ISL Correspondent
Each and every week during the Irish football season, IndySportsLegends.com interviews Notre Dame's upcoming opponent's radio play-by-play announcer.
This week, IndySportsLegends.com spoke with Joe Zagacki, the Voice of the Hurricanes.
Following is what Zagacki had to say about Miami, who is 4-1 overall, 3-0 in the ACC following a 44-37 home win over North Carolina State Saturday, and its game against Notre Dame Saturday night in Chicago.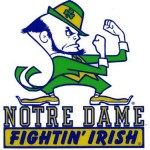 IndySportsLegends.com: Are the Hurricanes exceeding expectations thus far?
Zagacki: Yeah I would say so because they're playing with so many rookie players. I think the count right now is 17. It seems like everyday that they wake up they get younger.
They've been a pleasant surprise and part of it is the two games against North Carolina State and Georgia Tech. Those were two games that were hanging in the balance where they made big plays at the end to win, not only offensively, but they came up with some key defensive plays.
Their defense has not been very good this year, but they have come up with a couple key plays when they needed them.
IndySportsLegends.com: Some of the preseason publications thought this Hurricane team would finish near the bottom of the Coastal Division of the ACC. Are those prognostications out the window now with their fast start?
Zagacki: I think they can contend for their division since they're off to such a quick start at 3-0. When you look at what's around them (on the schedule) and it's North Carolina and Virginia Tech and I would say based on what we've seen so far with all three teams, that Miami matches up pretty well with those other two teams, and they play them at home.
I think Miami was probably ranked low this year because so many guys left early. It was eight guys who left early. If they had two or three of those guys, you might be looking at a 10-win team. If you had Lamar Miller in the backfield, along with (current Canes) Mike James and Randy Johnson, and you had Olivier Vernon at defensive end opposite (current starter) Anthony Chickillo and Shayon Green as a sub, you're a much better team than what they have right now.
People also forget that they thought their safeties were going to be Vaughn Telemaque and Ray-Ray Armstrong and Ray-Ray is not playing football (after he was dismissed from the team) and Telemaque has been injured. So you're going with a freshman in Deon Bush and A.J. Highsmith, who has never really played in any games.
It's pretty remarkable where they are.
IndySportsLegends.com: When do you think the Canes might be relevant again on the national scene like they once were?
Zagacki: To be relevant means you're a dominating team. To me, you're relevant when you win 10 games every year. When you win 10 games every year, you're playing for something whether it's a conference championship or a BCS bowl.
Ten wins seem to be the magic number.
Miami is not at that point because they have too many young players, but if they continue to develop under (Hurricane coach) Al Golden and he can keep them together, I would say they have a chance to be very good next year or the year after.
The formula was there in 2009 when they won nine games and probably should've won 10 or 11. Then in 2010, they couldn't sustain it, which has always been the problem in the ACC.
This group of players has a chance to follow a similar path. If you can get them all playing well at the same time than you've got something, and they're not too far off right now, it's just still hit and miss.
IndySportsLegends.com: When you look at Miami's one loss this season, the lopsided 52-13 defeat at Kansas State, was that just a day where everything that could go wrong did?
Zagacki: No. That was just Kansas State being that much better.
People look at Kansas State and say, ˜Oh that's just Kansas State.' They don't look at (Wildcat coach) Bill Snyder and his roster, which is filled with juniors and seniors and I mean fourth-year juniors and fifth-year seniors with an average age of 22 or 23 years old.
You had physical maturity and mental maturity going against Miami players who are 18 years old. It was a mismatch and I think I could see it coming.
IndySportsLegends.com: Talk about the season Miami quarterback Stephen Morris is having and how he's developed?
Zagacki: He has an elite arm. It's interesting to me how more people weren't in on his recruiting just because of his arm. Because of his arm, the whole field is open to him and that's what we've seen so far.
He can throw it short, medium, deep, across the field, and down the field.
The other day he threw a touchdown pass to (receiver Phillip) Dorsett and started the play off by making a defensive lineman miss so he extends the play, he rolls to his right, he sees a receiver underneath and out of the corner of his eye he sees Phillip Dorsett breaking free with a defender bearing down on him. He launches it from the Miami 30-yard line and it goes 60 yards in the air to Dorsett and does so maybe on one foot.
Not only does he have the arm, but he can make the big throw under heavy pressure.
The question with him is to be a little more consistent. He probably throws too many foul balls. He's a little bit streaky, but when he's on, he's a very dangerous quarterback.
He's the right fit for the offense they're running, a high tempo offense. He can throw the hitch route because it gets out there so quickly and he can throw the deep ball because he can throw it past everyone.
To me, he'll be the No. 1 key in the (Notre Dame) game.
IndySportsLegends.com: Teams shouldn't forget about the running game either when they face the Canes. Johnson and James have been quite productive on the ground?
Zagacki: I think the running game probably could be a little bit better. It's overshadowed a little bit by throwing the football, but they've been put in position like in the Georgia Tech game to throw to survive.
Against North Carolina State, it wasn't so much that they didn't run the football as much as the touchdowns were coming from long distance. It's hard to run the ball when you're throwing a 78-yard touchdown pass, a 64-yard touchdown pass and a 46-yard touchdown pass.
If you put (Randy) Duke Johnson in the Notre Dame offense, he would be an elite runner for them and he's going to be an elite runner for Miami. I do think he's a guy who could carry the ball 20 times in a single game when he gets a little older and bigger. Right now he splits time with Mike James and Mike James is playing with a chip on his shoulder because he's a mature player who wants to prove some things. It takes more than one man to bring him down. The fear with Duke Johnson is he's 5-foot-9, 183 pounds, but he doesn't back down from contact.
This is the best offensive line we've had in a while. They're young, but they've played a lot of football. I like their offensive line.
IndySportsLegends.com: When looking at Miami's strengths and weaknesses is it as simple as looking no further than the statistics and seeing this is a team that excels on offense and struggles on defense?
Zagacki: It's pretty apparent. The strength for Miami is going to be their offense, in particular the options they have on offense. We'll have to see how Notre Dame decides to play it.
I think Miami feels it's tough to beat power against power against Notre Dame. That's been proven. Yet Miami has been able to run the ball when they've had to. Running it against Notre Dame doesn't mean you have to get five yards every carry. If you get three yards, that's a positive play. I think they feel like they can wedge out positive plays in the run game and then in the passing game can Notre Dame keep up with them?
Do Miami receivers get behind Notre Dame's secondary or does Notre Dame collapse the pocket? What happens first?
IndySportsLegends.com: Is Miami's offensive philosophy pass first, run second?
Zagacki: I think they would like to fall in line and say they are balanced, but perhaps in this game they may have to throw it to be able to run.
Notre Dame has to say, ˜We'll test you first with a four-man front or a three-man front and see what happens.' They may drop eight.
I think some of that (offensive philosophy) may be dictated on what Notre Dame decides to do.
IndySportsLegends.com: What have been the problems on defense?
Zagacki: The one thing Miami has had a problem with is they haven't been able to put the same group of defensive players out on the field at the same time in two years because of injuries and suspensions.
This year they're playing with young players and they get hit with a couple of big injuries.
Youth and inexperience would be one reason and No. 2 is they don't have a Louis Nix at defensive tackle. If they had Louis Nix at defensive tackle, then you're probably talking about a different Miami defense. They have not been able to solve that spot.
And size, too (is a problem). They're not as big as they're going to be in three years.
Also, their best defensive tackle hasn't played a down for them, Curtis Porter (due to an injury).
IndySportsLegends.com: What does the defense do well?
Zagacki: What they've done well recently is turned teams over.
A player to watch Eddie Johnson at linebacker, who has become a rising star. He leads the ACC with three forced fumbles. When he hits you, you know it.
(Linebackers coach) Michael Barrow had a great line last week when he said, ˜Eddie Johnson hits players as if they were stealing his bike.' That's true. He's going to be really good and he's only a redshirt freshman.
IndySportsLegends.com: When you're calling the game Saturday night, what will be the key matchup you're focused on?
Zagacki: It's going to wrap around Stephen Morris. How well does he play? Perhaps how well he plays might be dictated by if Notre Dame gets to him or not or does Miami protect him or not.
Can Stephen Morris attack the Notre Dame secondary?
Notre Dame has Zeke Motta, who man if he was at Miami they would really be good. By the way, if we could trade for two players we'll take (safety) Zeke Motta and Louis Nix. If Miami had those two players, they would have a hell of a team.
Miami has to be able to go after (cornerback) KeiVarae Russell, test (safety) Matthias Farley and test (cornerback) Josh Atkinson when Miami goes to three receivers. They have to be able to get in behind them.
Can Miami cut off any part of Miami's run game? Can they at least slow it down? And I don't think the Notre Dame run game has been overwhelming. When you take a look at their numbers outside of the Navy game, it's 35 runs for 124 yards against the three Big Ten teams. Miami would probably live with that number.
Then red-zone efficiency. If Miami gets down there, they've got to score touchdowns.
I don't know if they can make a living scoring all their touchdowns from 30 yards away. At some point, you've got to score in the red zone against Notre Dame.
IndySportsLegends.com: If you were on the Miami coaching staff, would your No. 1 concern be Notre Dame's defensive front?
Zagacki: My No. 1 concern would be Louis Nix collapsing the pocket. Maybe I'm overstating how good he is, but to me it's right up the middle with Notre Dame. It's Louis Nix, Manti Te'o and Zeke Motta.
Of course they've forced 13 turnovers. Miami can't survive this game turning the ball over in that environment.
If I'm the Miami coaching staff, we've got to control Louis Nix, Manti Te'o can't dominate the game and what can we do with Zeke Motta and how involved is he going to be? Is he going to drop down in the box or is he going to play deep in the secondary? They have to be able to influence him a little bit.
IndySportsLegends.com: Short of a prediction, what kind of game do you expect to see with the Irish and Hurricanes meet?
Zagacki: I think it could be a heck of a game. I think it will be a lot better than we saw in the Sun Bowl.
There's an advantage for Notre Dame playing in Chicago. Notre Dame has an experience advantage and they probably have a trench advantage on both sides. That being said, college football right now is about getting guys in spaces and I think Miami gets a little advantage there and probably keeps it inside the Vegas number (Notre Dame -13).
Related Posts