By CHRIS GOFF
ISL Correspondent
Keys to the Series
Both teams have polished mid-level post stars – David West for Indiana, Al Horford for Atlanta – supported by flashier, wild card forwards (Paul George, Josh Smith). On both sides, look for the ability of the supporting cast to dial it up in the postseason.  That will go a long way toward determining which team will right the ship. Atlanta seemed to run out of gas down the stretch, finishing 11-15. The Pacers had a few stumbles of their own, going 13-11 in their final 24 games. Game 1 on Sunday looms large if one team works its way back to playoff intensity and the other does not.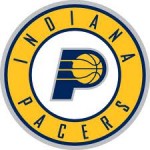 PACERS
Strengths
A punishing, air-tight defense. Pacers were first in the league in points allowed per possession and opponent field goal percentage, second in opponent 3-point attempts and points allowed per game. Four different Pacers had 50 or more blocked shots, led by Roy Hibbert's 206.
Hibbert's in-season recovery from confidence troubles and a minor wrist injury resulted in a dramatic improvement in shooting accuracy and a scoring surge (team-leading 17.2 points per game since April 1), further strengthening the offense.
Through a brilliant season, West averaged 17 points per game, the seventh time in his career he's done so.
With guards George Hill and Lance Stephenson crashing the backboards from the perimeter, the Pacers' team rebounding ability was by far the best in the NBA.
For the second straight year, the Pacers ranked in the league's top 10 in free-throw attempts, taking nearly 200 more than their opponents over the course of 81 games.
Assuming George responds in the right way, this might be his coming-out party. The Pacers have a solid cornerstone for the inevitable post-Danny Granger era. The impressiveness of George as a two-way player cannot be overstated. He is ready for redemption after subpar playoff showings in his first two seasons and accounts for a large part of the team's young and athletic identity.
Weaknesses
The revamped second unit has been a huge disappointment. D.J. Augustin struggled this season. Gerald Green looks like a failed gamble. Ian Mahinmi stands out most for being the team's flashiest dresser. And so the Pacers are right back where they left off last May – with a scuffling bench. Orlando Johnson? Though he was occasionally productive once he cracked the rotation, the rookie most likely will be on a very short leash in this series and beyond. Tyler Hansbrough was the most solid option on a bench that remains a big question mark.
The defense could be vulnerable from the front as Hill showed signs of overuse in April – a key factor in that he'll be assigned to offensive orchestrator Jeff Teague.
The offense could be a liability as the Pacers proved all season in finishing No. 19 in the league in points per possession, worse than all but three clubs in the 16-team postseason field.
The Pacers are prone to poor finishes in close games. They are the only Eastern Conference playoff team with a losing record in contests decided by three points or less (4-9).
HAWKS
Strengths
Atlanta's defense is also quite effective – the Hawks were tenth in the league in points per possession and have two great individual defenders in Horford and Smith. Teague was in the top 15 at his position in steals per minute. Atlanta excels at keeping teams off the foul line and is above average at forcing turnovers.
Annually underrated Horford (team-leading 19.8 player efficiency rating, 10.2 rebounds per game, 54.3 percent shooting on 14.3 FGA per game) is more than capable of making up for the lost firepower from guard Lou Williams, who underwent season-ending surgery on his right knee. At one point this season, Horford reached 20 points in a career-high nine consecutive games.
Smith had a great season, becoming the only player in the NBA to average at least 17.0 points, 8.0 rebounds, 4.0 assists, 1.5 blocks and 1.0 steals this year, while looking to justify management's decision not to trade the ninth-year veteran before February's deadline.
The readjusted offense after the loss of sparkplug Williams wasn't spectacular, but got the job done. The Hawks' assist rate of 65.1 ranked first in the league, and combo guard Devin Harris (team won 24 of 34 games he started) and glue guy Ivan Johnson were key. With Harris and Teague, coach Larry Drew has two dependable ball handlers, and all five of the Hawks' rotation big men – Smith, Horford, Johan Petro, Johnson and Anthony Tolliver – are capable of passing.
Kyle Korver is a world-class shooter. He had the second-best 3-point percentage in the NBA (45.7, behind Jose Calderon).
Weaknesses
Hawks were only 15-27 versus teams that were .500 and above – which would seem to bode well for the Pacers if West, George and that defense simply play to form.
Not a whole lot of second chances here as Hawks' 22.2 offensive rebound rate (Pacers were at 30.3) ranked fourth from last in the NBA.
The best five of Korver, Smith, Horford, Harris and Teague has major size issues, and only Teague would be able to match the height of his Indiana counterpart.
THE PICK – PACERS IN SIX
Atlanta has been far less impressive than it was in romping to 53 wins just three years ago. The futures of Smith and Drew are up in the air. General manager Danny Ferry gives off a vibe that he will seek a new direction in the offseason. Meanwhile, the Pacers know most of the faces surrounding their lockers are in it for the long haul, and the time is now. The mission is clear. There's a possibility the blue and gold won't even be tested. The Pacers have a vastly superior scoring margin and are the more balanced squad. They also have home court, which is important for a team with an 11-game split between its home and road record. Hibbert can play over the top of Horford. And Indiana knows how to prevent fast-break points, which are a Hawks staple. Look for Atlanta to win a pair, but nothing beyond that.
Related Posts