By CHRIS GOFF
ISL Correspondent
INDIANAPOLIS – In the playoffs, it really doesn't matter how you got there.
If it did, the Indiana Pacers are learning, they wouldn't be lighting up the scoreboard.
More than 72 hours after opening the 2013 postseason in grand style, the Pacers doubled down with a 113-98 demolition of the Atlanta Hawks on Wednesday night in Game 2 of their Eastern Conference first round series. Game 3 is Saturday in Atlanta.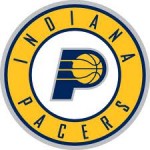 What impresses is not that the Pacers are winning, but how they are doing so. They simply shredded the road team in the first two games of this series with their sheer strength, alert passing and relentless effort, racing out to an 11-point lead in the second quarter and never being seriously challenged afterward. Unlike last season's Orlando series, the Pacers left nothing whatsoever for the lower-seeded team to hang its hat on or feel positive about.
Certainly, these Pacers resemble the club they were for most of the middle of their season: Indiana went 38-16 in its 54 games after Dec. 9 before struggling mightily in the last six. For more than half a season, the Pacers performed at a 58-win pace. Even after losing star forward Danny Granger for the season, they hardly batted an eye.
The real shock in these playoffs, however, is how thoroughly the Pacers are pummeling Atlanta on the offensive end of the court. Indiana arrived at this point as a defensive team, leading the league in opponent field-goal percentage and bullying teams at the basket with the shot-altering power of giant center Roy Hibbert.
But their lockdown defense has been decidedly mediocre in this series. Instead, in a quasi-repeat of Game 1, it was Paul George's perimeter excellence (27 points and eight rebounds), George Hill's deadeye shooting (7-of-12 for 22 points) and George's precise decision-making (zero turnovers, just 10 for the team) that told the story. Indiana has scored at least 23 points in every quarter of this series and steamrolled to 220 points on just 187 possessions, an outstanding 117.8 offensive efficiency reading.
Offensively to win the free-throw battle again and to do all that and only have 10 turnovers is a pretty solid effort, Indiana coach Frank Vogel said. Defensively I'm still not happy with 49 percent (shooting by Atlanta) so we still have to get better there.
Reserves have played a major role in providing the Pacers oodles of points and a 2-0 lead in the best-of-seven series.
Gerald (Green) really got it going and D.J. (Augustin) really stepped up, Vogel said. Green is a guy capable of that offensive burst and tonight he certainly had it. He gave us a big lift.
Indiana also crushed the Hawks on the offensive glass, corralling 15 offensive rebounds and earning 12 second-chance points. Seven different Pacers players snatched an offensive rebound, with none being as memorable as grabs by Tyler Hansbrough and George on the same possession, leading to a Hill 3 after the Hawks had cut a 16-point lead to 10 midway through the fourth quarter. Hill's triple capped a 7-0 run and sent the lead to 17, sapping all life from the visitors.
We naturally play physical, George said. That's how we play. That's how we approach the game.
Much like in football, when a team wins time of possession, the Pacers are hanging onto the ball and creating more opportunities to score. Atlanta has 30 turnovers in this series to 24 for the Pacers, and Indiana also has 13 more offensive rebounds. That comes out to 19 extra possessions in two games, explaining how the scores are so lopsided even with both sides shooting well from the field.
George, of course, is the difference. He was difficult for the Hawks to contain in four regular-season meetings, and then posted an epic triple-double in Game 1, but the hope was that constantly switching defenders would make Atlanta more capable of slowing him. On this night, coach Larry's Drew's mad-scientist routine was utterly futile.
He's a pretty good player who's a tough assignment, said Hawks forward Josh Smith before the game, and his comment proved prophetic. Whether dropping fadeaway jumpers, driving it to the basket or finishing through and around defenders in transition, George owned this contest from the start, scoring 11 points in the opening period. The Hawks tried Devin Harris, Smith and DeShawn Stevenson on him, and none of them could make a difference.
He's a great player, said Al Horford, who has been far from great with just 27 points in the series. Paul George is an All-Star, and we just have to be better at guarding him.
Furthermore, simply the threat of George allowed Green to have a huge night, too. Any time the Pacers used George and Green together on the wing – notably when Lance Stephenson missed the second quarter with a bruised right hip – the release valve to Green on the weak side was wide open because the Hawks feared George beating his man into the paint, drawing help and dishing it off to a Pacers big. Green scored eight of his 15 points when George was in the game.
I'm just glad I'm able to help this team win, Green said. It's hard work. It's players giving me spirit, motivation and a lot of confidence. I guess it's starting to pay off.
George said he tells Green, who has 26 points in the first two games, that he must take those shots that come open as a product of George's presence.
I've got the most confidence in him. George said.
The most frightening aspect for Atlanta and the rest of the Eastern Conference is that the Pacers haven't done anything drastically different to pull off these white-hot offensive performances.
We've just got to have ball movement and play as a team, Vogel said before Game 2.
Atlanta, on the other hand, was again left to lean on that all-mighty buzz word: adjustments. Having had nearly three days to recover from a 107-90 defeat and two practices in their home arena before flying back into town, the Hawks figured to empty their bag of tricks in this one, but the result was nearly a carbon copy, with Atlanta getting off to a 5-0 start (6-0 on Sunday), leading 13-12 midway through the first period (same as Game 1) and trailing 59-50 at halftime (58-50 in Game 1). Now they're back to the drawing board, but how many colors of chalk remain in the box?
We're not going to fragment at this point, Drew promised. We've been a team that's been resilient all year long. Indiana defended their home court. Now we've got to defend ours."
While the Pacers may have defended their sold-out Bankers Life Fieldhouse, Atlanta could not defend them. And with more offensive performances like this, and a return to the fore of that awesome D, these Pacers may stick around the playoffs longer than they have in a decade.
Related Posts