By CHRIS GOFF
ISL Correspondent
Roy Hibbert was sitting in front of cameras all fidgety and sad after the Indiana Pacers were eliminated from the playoffs, when a reporter mentioned how the summer months often present an opportunity for individual and team improvement.
Hibbert perked up at the idea of looking past playoff heartbreak, having been bounced out of the postseason both this year and last year by the Miami Heat. The Pacers were knocked out in six games last spring, so quantitatively this year's seven-game defeat to the Heat reflected a dose of progress. In fact, this series was actually excruciatingly winnable, with three down-to-the-wire finishes masked by a one-sided finale.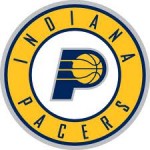 If Hibbert was looking for an opponent toward which to try to tailor his offseason ambitions, all he had to do was look in the other locker room at AmericanAirlines Arena.
-Those guys have been battle-tested and they've been through it before," Hibbert murmured after Indiana's 99-76 Game 7 loss to the Heat. -Unfortunately, we lost, but all their guys were making the right plays because they've been through it before. Hopefully we can learn from this. The future is bright."
By bright, Hibbert naturally means the potential of reaching the NBA Finals. The Pacers started the season with visions of repeating the run that the balanced, star-less Detroit Pistons made in 2004 all the way to a Larry O'Brien trophy. Associate head coach Brian Shaw periodically wore one of his five championship rings and showed it to each player so there was no misunderstanding about the ultimate goal.
And according to Miami coach Erik Spoelstra, who also knows a thing or two about reaching the NBA Finals, the Pacers are well on their way to breaking through the top of the Eastern Conference.
-We tip our competitive hats to Indiana," Spoelstra said. -Ultimately the competition brought out our best and that was due to the series and how competitive it was. They're a great organization with a similar foundation and culture."
Whether they ever get to the level of the Heat – Eastern Conference champs for a third straight season – will depend largely on whether the Pacers can overcome their turnover woes. The miscues piled up Monday like peanut shells on a roadhouse floor. Nine of them came in the first quarter, when the Pacers were hanging around but playing mindlessly. And another six came in the second period to fuel a furious downward spiral that led to Miami's 15-point halftime lead.
To add insult to injury, the Heat set a franchise record for fewest turnovers in a seven-game playoff series (83) – and that was in spite of an uncharacteristically gaffe-filled opener. By contrast, Indiana had more turnovers (121) than assists (114) in the series.
Still, Hibbert and fellow rising star Paul George, whose proclamation that Indiana was a better team fell flat, were able to get past Monday's disappointing performance and reflect on a season that had more ups than downs.
Indiana won 49 regular season games and the Central Division title, franchise bests over the past nine years. Also, the Pacers vanquished New York 4-2 in the second round of the playoffs, the team's first such playoff series victory since 2004, when Jermaine O'Neal manned the middle in what were then Pacers pinstripes.
Hibbert took a major step in his emergence as one of the league's best big men by finishing in the top 10 of Defensive Player of the Year voting. George made the biggest leap of anyone on the roster, winning the NBA's Most Improved Player award. And David West and Lance Stephenson played some of their best basketball in the biggest moments of the playoffs.
-I'm looking forward to seeing what this group looks like in three months," said West, who averaged 16.6 points against the Heat. -We've got the same goals as we had last summer. Our only focus is to beat Miami. I don't see that changing for the foreseeable future."
Hibbert, who was under a microscope after the front office committed $56 million over four seasons to the gigantic center last July, said he feels he has more than mastered paint defense. But it was actually Hibbert's offense and board work that drove Indiana's playoff run, as he averaged 17.0 points and 9.9 rebounds per game over 19 contests. Those were the aspects of his game where critics felt he might never prove worthy of his salary. Now he is practically a bargain, since he demonstrated he can be the anchor of a serious contender.
With all of the Pacers' core players – Hibbert, George, West and George Hill – likely to be locked up to long-term contracts if they aren't already, Indiana's masterful front office has seemingly put the team in position to make a sustained, genuine run at a championship. Better perimeter shooting is an issue, but general manager Kevin Pritchard feels Danny Granger's return following a season lost because of right knee surgery will help. Also, Pritchard knows he and president Donnie Walsh must upgrade the bench since D.J. Augustin, Sam Young and possibly Tyler Hansbrough (due a qualifying offer) will become free agents.
Indiana has a first-round draft pick and limited cap space, depending on a number of factors. The luxury tax is a potential obstacle, as is the reality that a salary squeeze is only a year away. Finally, the Pacers likely will try to shop disappointing swingman Gerald Green, who finished his season by playing 11 dreadful minutes in garbage time.
For now, there is only Monday's defeat, with players and coaches left to ponder the turnovers and missed free throws and second-shot opportunities granted the reigning champs. While a bright future is unquestionably ahead for the talented Pacers, they were much less prepared and focused for Game 7 than the Heat were.
One reason was the matchup on the sideline, which went decidedly in Miami's favor. In Game 7, Spoelstra shook up his defense, first by putting LeBron James on George to take away his clean shots, then by confusing the Pacers with a full-court press look on a few trips in the middle of the game. All series long, Spoelstra's game-to-game adjustments had him a step ahead of Frank Vogel, who was unable to react to them in-game and made changes on off-days, by which time Spoelstra had already moved on to his next trick. Spoelstra also had to adjust to three different injuries affecting two key players and one suspension. Meanwhile, Vogel was seen providing his team with inferior matchup situations in a few different key moments. He was mostly panned nationally for leaving Hibbert on the bench for two critical defensive possessions in Game 1. And in Game 7, for example, Vogel was caught with three subs on the court at the start of the second period and gave up a 14-6 run that changed the tenor of the contest.
Yet those are the little things. With the Pacers, even after a crushing defeat, it's hard not to focus on the big picture.
-They (the Heat) taught us a lesson," Vogel said. -(Pacers players) felt like they could have won this series. They're disappointed but encouraged about the future. They represented our state extremely well. What I told them is to keep their heads high."
Related Posts