By CHRIS GOFF
ISL Correspondent
At Philips Arena, known to host some rowdy playoff crowds, a feeling of inevitability will likely hang in the stadium like a dense cloud of smoke from pregame fireworks when the NBA playoffs return there for a sixth consecutive season.
Unless they win the next four contests, the Atlanta Hawks' only avenue to survival calls for them to win a Game 7 on the Indiana Pacers' home floor. And with the Pacers cruising in this best-of-seven first-round series, every expectation is that the higher seed will take care of business sooner rather than later, anyway.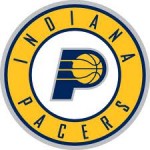 History certainly supports this view. The Pacers are 10-0 all-time in playoff series when leading two games to none. The Hawks have lost all 19 series in which they have trailed 2-0.
In fact, heading into Saturday's Game 3, the talk is that it doesn't even look like the Hawks will be coming back to Indianapolis.
It was a throwaway line, but Indiana coach Frank Vogel's comment fed that fire.
We have to go for the kill, said Vogel, following the Pacers' 113-98 win in Game 2 Wednesday at Bankers Life Fieldhouse. During the regular season, no NBA team seemed more competitive than the Pacers as they played their tails off on a nightly basis.
Now they must channel well-stocked reserves of energy and emotion into steely willpower rather than comforts of overconfidence. In any playoff series, the slightest shift of momentum can build a head of steam, and the Pacers' immediate task is to carry over their swagger and poise under the stresses of a road game in the postseason.
Observers are curious to see whether one trend in particular continues to play out: Roy Hibbert's control of the matchup at center. Indiana's max-contract big man has outscored Al Horford 31-27 and out-rebounded him 17-16.
He's a good player, said Horford, who is Atlanta's best. For me the important thing is to play my game.
As the series shifts to Georgia, with his team's back against the wall, Horford leans on the calming influence of 44 NBA playoff games and two national championship runs in college.
It helps, he said. You're able to understand the magnitude of the game and I've been used to playing in big games. So I'll feel pretty comfortable out there.
For the Pacers, a free-and-easy disposition is less desirable than a hardened focus upon a venture into what has been a house of horrors for their franchise. Indiana has lost 11 straight games in Atlanta, including both visits this season.
We have to have that in the back of our mind, Paul George said. Teams play well at home. We'll have to bring it.
The Pacers have taken nearly twice as many free throws (63-34) as Atlanta in the first two games.
That's partly due to Indiana's being the aggressor in nearly every respect. If the third-seeded Pacers bring that same attacking mindset into the gym nicknamed The Highlight Factory, the clock will only tick louder and faster on a series that has taken a sharp turn toward predictability.
Related Posts