By CHRIS GOFF
ISL Correspondent
Well, it was nearly a replay.
Write up a list of all the things the Pacers saw happen Saturday night and put a check mark next to them, and you'll see Indiana improved on very little in Game 4 and was thus denied the road win it needed to control this first-round series against Atlanta. Each team has won twice to make it a best-of-three.
Consider what went wrong on Monday to spur feelings of déjà vu: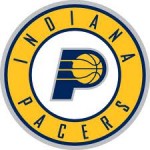 Pacers underutilizing Roy Hibbert? Check. He got one shot off in the second half and attempted just two free throws in 31 minutes.
Quiet night from David West? Check. Indy's star forward had only 15 points and took none of his patented midrange jumpers.
Indiana playing from way behind? Check. The Hawks led by 11 midway through the second quarter and again got West and Hibbert in foul trouble.
Another one-sided defeat? Indeed, if not quite as ugly. And the reason that was true stems from a major swing in the middle of the second half, one that saw the Hawks miss 12 straight shots to let Indiana back in the game and also go 4:18 without a single point as the Pacers made a 15-1 run.
We brought the energy, said George Hill, who had six of his 12 points and four of six assists after intermission. We started playing a lot better.
The strange part: It was the Hawks who wore down the Pacers with their energy in the second half rather than the other way around. All series long we've wondered about the cumulative impact of the uncertain futures for so many members of this Atlanta organization, especially in the wake of an uninspiring 11-15 finish to the regular season. But when the Hawks returned home, Indiana cooled off, and in a major turn Atlanta became the passionate aggressor while Indiana sprung leaks in a variety of areas.
From the 2:33 mark of the first until the 8:02 mark of the second – a span of more than half a quarter – Indiana mustered just three points. That was a span of 11 trips in which they saw a seven-point lead become a 12-point deficit, and the Pacers never recovered.
They took control of the game in the second quarter again, said West, so we're fighting uphill, fighting that battle, and expending a whole lot of energy trying to get back in the game. We had opportunities but didn't finish.
We felt we were playing well enough to come down here and get one game. They're doing a good job really keeping us on our toes. But we've got to contest their shots. We've got to be more engaged. There were times we didn't need to help as much as we did and gave them open 3s. It's something we can fix. We just have to figure it out.
More careless turnovers fueled the Hawks' offense, not to mention the crowd. The second of Hill's turnovers led to a transition tip-in by Josh Smith that ballooned the lead to 14 and sent Philips Arena into another Let's Go Hawks! frenzy (forget the low-demand ticket prices; fans at the Highlight Factory were lively).
Our crowd has been unbelievable for these two games, Smith said. That definitely played a part in our success.
Let's dig in for a closer look at how the game got away. In those aforementioned 11 trips, Indiana took eight shots and made one, and threw in four fouls and two turnovers for good measure. They suffered some unlucky bounces, certainly, but also played without any discernible plan in mind. Devin Harris swiped the ball away twice, while seven of the eight shots came from the four guys the Hawks most want to see shoot – Ian Mahinmi, Gerald Green, D.J. Augustin and Tyler Hansbrough. A ninth was basically botched by Augustin, too, as he missed West, rolling open out of the pick-and-roll, and threw the ball to Green on the weak side in a possession that ended with Paul George turning it over very late in the shot clock.
Another crucial play in the game was the fifth foul on Hibbert early in the fourth quarter, a circumstantial foul when he was trying to defend against Ivan Johnson. The Pacers removed Hibbert for nearly six minutes, and replacements missed two shots during his absence.
But left unanswered was why exactly they weren't even going to Hibbert in the first place. Already in the midst of another terrible offensive performance, they were ignoring a primary option who had been able to score against Johan Petro all first half.
If the Pacers had run more stuff from the post, they might have shot better than 9-for-22 in the third period and been better able to sustain the flurry of outside Atlanta shots that allowed them to pull away in the fourth.
There might be a silver lining. After a late Pacers foul, Harris jogged onto the court from Atlanta's sideline in an action that may be reviewed by the league; though Johnson's turn toward West did not rise to the level of an altercation, Harris' jaunt over there could be ruled the dreaded leave the bench move, which would result in an automatic one-game suspension for the critical Game 5 in Indianapolis on Wednesday.
Regardless of what the league office does (my guess is they won't penalize Harris), the Pacers leave disappointed that they did not earn a split at Philips because of their all-around meltdowns in the first half of both games.
In addition to the mistakes and poor defense, there were some clean looks they couldn't convert. On two trips in the second half with a chance to cut Atlanta's lead to two, George and Hill (0-of-6 on 3s) missed wide-open treys.
I was probably the most frustrated, Hill said. Shots that I normally make just didn't drop.
We just have to be able to catch a good rhythm, said West. I'm getting some of the shots that I want. We just have to prepare and then do what we've got to do.
Moving forward what they have to do is find an answer for Atlanta's reinvigorated defense, and that answer must come in the next game.  If Atlanta, on the other hand, forces more long droughts and returns to the ATL with a 3-2 lead for Game 6 on Friday, they suddenly have a real opportunity to steal the series.
Related Posts