By CHRIS GOFF
ISL Correspondent
INDIANAPOLIS – On a night they needed their defense more than ever in the Eastern Conference finals, the Pacers' came through. An intense performance proved too much for Miami to overcome in a 99-92 Indiana win in Game 4 that evened the series.
Yet it was an impossibly difficult rainbow jumper that will be a staple of fans' memories. George Hill stood in front of the Miami bench ready to inbound the ball with 1.6 seconds left in the third quarter. Hill looked and looked and finally jumped to throw a pass over the arms of Ray Allen which landed all the way across the court in the hands of Lance Stephenson in the right corner.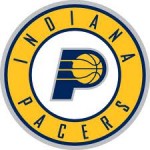 The Pacers guard, one of the stars of the victory with 20 points and five rebounds, was all alone when Hill released. Yet as the ball traveled on its long, arching flight, Miami guard Dwyane Wade scrambled toward Stephenson, leaping high in the air, his right arm extended, to challenge the shot. Stephenson's hurried, awkward form led his right leg to kick out and Wade nearly got a piece of the ball. Stephenson was on his rear out of bounds as he watched his 3-pointer lace the net.
D.J. Augustin tapped Stephenson on the head as the Pacers walked off the floor at the end of the quarter, in front 77-70. They had trailed by six points midway through the period. Stephenson had no idea the pass would come his way but said that the catch-and-release corner fadeaway is a shot he practices all the time.
-I knew it was in the right direction and on-line," said Stephenson, a below-average 3-point shooter. -I didn't know if it was going to go in. I'm just happy it went in."
Another defining moment occurred in the fourth quarter, when a struggling Paul George took a pass from Hill on the left side and drove right into LeBron James, who was called for a foul as George absorbed the contact in midair and somehow tossed the ball up and into the basket. George had only scored seven points, wasn't being aggressive and knew the Heat were leading 86-83 courtesy of a crowd-silencing 14-2 run that took place in a blink-of-an-eye stretch of 2:12.
Indiana needed something, anything. The gold-clad crowd at Bankers Life Fieldhouse was on pins and needles. It appeared Miami was on its way to a come-from-behind victory. And then George delivered a momentum-changing three-point play.
-I saw I had space to go baseline and make a play," George said. -I just wanted to be aggressive. The jump shot wasn't falling. I knew I had to get to the basket and try to get to the free-throw line. LeBron came over and tried to make a play but I was able to focus on the finish. We needed to counter the run they had just made."
That George was the one to do so spoke volumes about his ability to stay in a game mentally and to sense the right moment to set a tone. While not necessarily a play for the highlight reel, it was nonetheless one of the most telling moments of George's career, a showcase of the resiliency that is a requisite trait of a future star.
So after a brief departure Sunday night, this series again looks evenly matched. Through four games, we're tied at two games apiece with a composite score of 402-394. Each side has stolen a win on the other's home court, and each has won a game on the back of its core strength – with Indiana's defensive masterpiece Tuesday offsetting Miami's offensive explosion two days earlier.
Indiana got off to a hot start in this one, leading 11-0 just three minutes into the game before Miami built a six-point lead in the third quarter on Mario Chalmers' jumper. Somewhat fittingly, the Pacers went ahead for good when Roy Hibbert caught a wild fling by George and banked in a layup just before the shot clock expired. On the next possession, Indiana extended the lead to five when two more offensive rebounds led to a three-point play by Hibbert with 1:30 left.
-We had them right where we wanted them," Heat center Chris Bosh said. -But every time we would get a stop in the fourth quarter we didn't come up with the rebound."
The Pacers' ultimate achievement, though, was limiting Bosh, James and Wade to 47 points on 14-of-39 shooting. Miami's Big Three had more fouls (15) than baskets. Collectively, that had to be one of their worst games in ages, and Indiana took the opportunity and ran with it.
By their lofty standards, the Heat couldn't throw it in the ocean. They shot 39 percent overall and 8-of-23 on 3s; the bricking fueled a much more buoyant crowd than we saw in Game 3. Miami was scoreless on its first five possessions and was limited to six points – which came on two treys – in the final 5 ½ minutes.
One of those was an answered-prayer by Allen, who picked up a loose ball and dribbled into an off-balance 3 over David West with the shot clock expiring to give Miami its last lead, 89-86. It was the type of play that might have demoralized a less-poised team than these Pacers.
-We've been able to fight and win games like this all year," West said. -Guys did a great job maintaining their composure. We didn't get down when they went up six. We didn't get down when Ray hit a big 3. LeBron hit a big 3 to tie it. D-Wade gets an and-1. We always felt we were still in the fight."
That was true even after the Pacers scored six points on 3-of-10 shooting with three turnovers in the first six minutes of the fourth quarter. In the final six? Sixteen points on 5-of-9 with one turnover.
-Our aggression was where it needed to be," West said. -We got the ball inside to Roy. We stayed the course. We missed him a few times but we got the ball where we felt we had an advantage and that's in his hands."
Indeed, Hibbert offered yet another great individual performance and carried the offense with a team-high 23 points, including five straight in the Pacers' decisive 8-0 run. Six of his 12 rebounds were offensive. He's badly outplayed Bosh in the series by averaging 22.8 points and 12.0 rebounds per game on 54.1 percent shooting. More than anyone, he's the reason the Pacers are still in this.
Given how slim the margin has been between these two clubs, one suspects the San Antonio Spurs are a long way from knowing their opponent in the NBA Finals. And as well as their offense has played, the Pacers' best chance of winning this series is with their defense playing a starring role. On Tuesday, despite a pair of oh-so-memorable shots, that's exactly what happened.
Related Posts