By CHRIS GOFF
ISL Correspondent
A grimace adorned the face of the Brooklyn-born guard when he trudged to the locker room midway through the fourth quarter, an expression reflecting both the physical ache of a twisted leg and the mental anguish of knowing the Atlanta Hawks were mounting a ferocious comeback.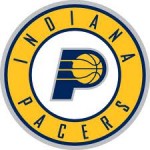 Pain never gets to Born Ready. And if it was panic that tried, it would simply be suppressed by a big-city swagger – part cockiness, part muscle memory begat from the natural urge to play this little game with a hoop and leather sphere.
On occasion, he'll do something wild, but he has a good feel for how to play, Pacers coach Frank Vogel said before the playoffs to a national reporter, foreshadowing the fearless spirit with which Lance Stephenson was about to play.
The Indiana Pacers are not going home, but moving on. They'll be in New York on Sunday to compete in the Eastern Conference semifinals, looking very much like a club that had aced a two-game soul-searching, capped by a 48-minute showcase of defensive suffocation in their 81-73 defeat of the Hawks on Friday night.
Unlike his teammates, Stephenson, in a sense, is going home, to the place where he was a legendary scorer in high school, a blur of a dribbler with his propensity to beat overmatched defenders to the rim and cross over the most spry of opposing ankles. Stephenson battles in his new persona with as much zeal as the old, a reinvented jack-of-all-trades, defensive weapon and X-factor on an NBA contender.
Did he return to the game Friday? Yes, less than three minutes after rolling his foot pursuing a rebound.
Did he come up with a huge strip of Jeff Teague to kill the momentum of Atlanta's rally? Of course.
Did the Pacers look ready to give the second-seeded Knicks a run for their money in Round 2? Well, this festival of mistake-filled, rim-ruining basketball at Philips Arena was not the best piece of evidence to that point.
But Indiana, a club that established itself as the better team early in the Atlanta series and then said so – Vogel is never afraid to border on brash – exorcised a number of demons Friday in ending the Hawks' season.
Led by Stephenson's underappreciated grit (eight points, 11 rebounds, six assists), David West and  George Hill (21 points apiece) and Roy Hibbert (17 points, 11 rebounds), the Pacers closed the deal confidently without succumbing to the shaky nerves they had when losing big leads on other occasions this season – including once in the very same building.
On all of the news shows and blogs tonight, the Pacers would be mighty satisfied to see this: 1-13, an updated account of the record Indiana kept hearing for four days after they had dropped Game 4, how Atlanta had won 13 consecutive games at Philips Arena against the Pacers since Stephen Jackson led the visitors to a 100-90 victory on Dec. 22, 2006. (A stat that Vogel dismissed with a sense of humor before the series, when it sat at a still-imposing 0-11, by insisting that he did not care at all about regular-season outcomes.)
I thought we came out this last game as aggressive as we could be, West said. We felt like when we came down here those previous two games we just weren't aggressive enough. We felt like we had to come out here and take it from them on their home court. We've just got to play our brand of basketball: pound it inside, make plays defensively and get some easy baskets in transition. Ultimately, it comes down to our defense. If we defend on every single possession, we give ourselves a chance to win.
Indiana's lead was 65-50 after three quarters, the kind of deficit to quiet the formerly rowdy fans at the Highlight Factory. West had found his stroke, the Pacers' much-maligned bench was somehow playing respectively, and Ian Mahinmi had just made a block of Anthony Tolliver's layup attempt to close the third that seemed as if it would establish the tone heading into the fourth.
Not so fast.
A jumper by Al Horford (6-of-12 overall, 15 points) and a hoop by Devin Harris quickly cut the lead to 11. Then Hibbert bricked a hook, Kyle Korver hit a 14-footer, West intervened momentarily with a layup and Josh Smith came back with a beautiful jumper from the top of the key. It was all unexpected and sudden, and the Pacers quickly found themselves with just a nine-point lead after only 4:19 of the fourth quarter had elapsed.
Neither team scored in the next two minutes, but the Hawks didn't lose steam.
Korver knocked down a 17-footer with 5:01 left to make it a seven-point game, and Horford followed that up with a driving, two-handed slam over Hibbert that preceded an official timeout and sent fans into an is-this-really-happening frenzy.
The Pacers responded by digging in defensively, permitting Atlanta just five points from that point forward – which, perhaps, not coincidently, was the exact point at which Stephenson re-entered the contest. As it ended, Stephenson was seen with a grin on his face and a hop in his step as he pranced through the exit tunnel. While one of Atlanta's big weaknesses in the series -a lack of composure – was easily definable, less so was the Pacers' immense poise in this clincher.
Folks in Georgia will always wonder how much different this series might have been had Zaza Pachulia and Lou Williams been healthy. Then again, the Pacers were also missing a big piece (forward Danny Granger), and they were the superior outfit, anyway.
An underrated reason the series turned was the play of Hill, who bounced back from his poor performances in Games 3 and 4 and late-season groin and hip injuries to knock down several huge shots and be the leader on the floor that the Pacers needed in the second halves of Games 5 and 6. Hill took 14 shots Friday and made seven, but his work on Korver and Teague defensively made him, for arguably the first time in the series, Indiana's most valuable defender.
Indiana had a 42-30 edge in points in the paint and a 14-8 edge in points off turnovers and – more importantly – took 53 rebounds while the Hawks only managed 35.
For Paul George, despite a quiet Game 6, it was the biggest playoff series of his career -he'd never played well in the postseason before – and enhanced his reputation as a budding star who can be counted on to carry the franchise in big games for years to come.
We just stayed composed, early on in the season we lost a game like this where we were up and playing well until the fourth quarter came around and we didn't execute, but tonight we did a good job of getting good shots at the end and playing good defense, George said.
Hill said they'll celebrate their progress in the small window available.
Guys are happy, but we have to get our hard hats on and play another game in less than 48 hours, Hill said.
On this night, Stephenson proved no one has to worry about him on a quick turnaround.
As for the Born Ready nickname? Going to the Big Apple, it fits perfectly.
Related Posts